There are some moments in football that are etched in every fans memory. Even if the event was not witnessed live, an iconic image captured in celluloid is often imprinted in the mind.
England fans have had their fair share of highs and lows, experiencing the proverbial 'rollercoaster of emotions'. Here we present the 10 most unforgettable images in the history of the England national team. These images are also ranked based on their iconic status.
Do you agree with our selection?
---
Number 10: Rooney's stamp in World Cup 2006. The young England striker received his marching orders after a stamp on Ricardo Carvalho. The dismissal is also remembered for Cristiano Ronaldo urging Argentinian referee Horavio Elizondo to brandish the red card, and his subsequent 'wink' to the Portugese bench that incensed England fans.
England subsequently lost the game on penalties without their starlet.
The referee blows for a foul against Rooney for a deliberate stamp, for which the Englishman was sent-off (The Independent)
---
Number 9: Lampard's 'ghost' goal against Germany in World Cup 2010. Unfortunately for England fans this tournament preceded the use of goal-line technology. A Frank Lampard shot ricocheted off the underside of the goal and over the goal line, but this was not seen by the officials. Germany had been leading 2-1 at this point.
The next day the German national press (Welt, Westdeutsche Allegemeine) wrote that the great rivals were now 'quits' in reference to Geoff Hurst's disputed second goal in 1966.
Manuel Neuer watches Frank Lampard's longe range shot hit the underside of the bar, bounce over the line, and spin away from goal (Getty)
---
Number 8: Terry Butcher's heroics in 1989. The central defender captained the side in their penultimate World Cup qualifier against Sweden. Butcher suffered a head wound in this crucial match, which was bandaged by the England medical team. But his insistence to make powerful clearances with his head, reopened the wound, soaking his shirt in blood.
He refused to be substituted, and aided his country to a scoreless draw away from home.
A bloodied Terry Butchers celebrates an important result against Sweden, which helped secure England's progress to the World Cup finals (The FA)
---
Number 7: Stuart Pearce's reaction to his successful penalty in Euro 96. A nation held its breath as Stuart Pearce stepped up to take the penalty against Germany in the Euro 96 semi-final shoot-out. The same player had missed his spot-kick against the Germans in Italia 90, a game which England had lost on penalties.
But this time the left back made no mistake, and six years of pent up anger were released in a moment of raw emotion.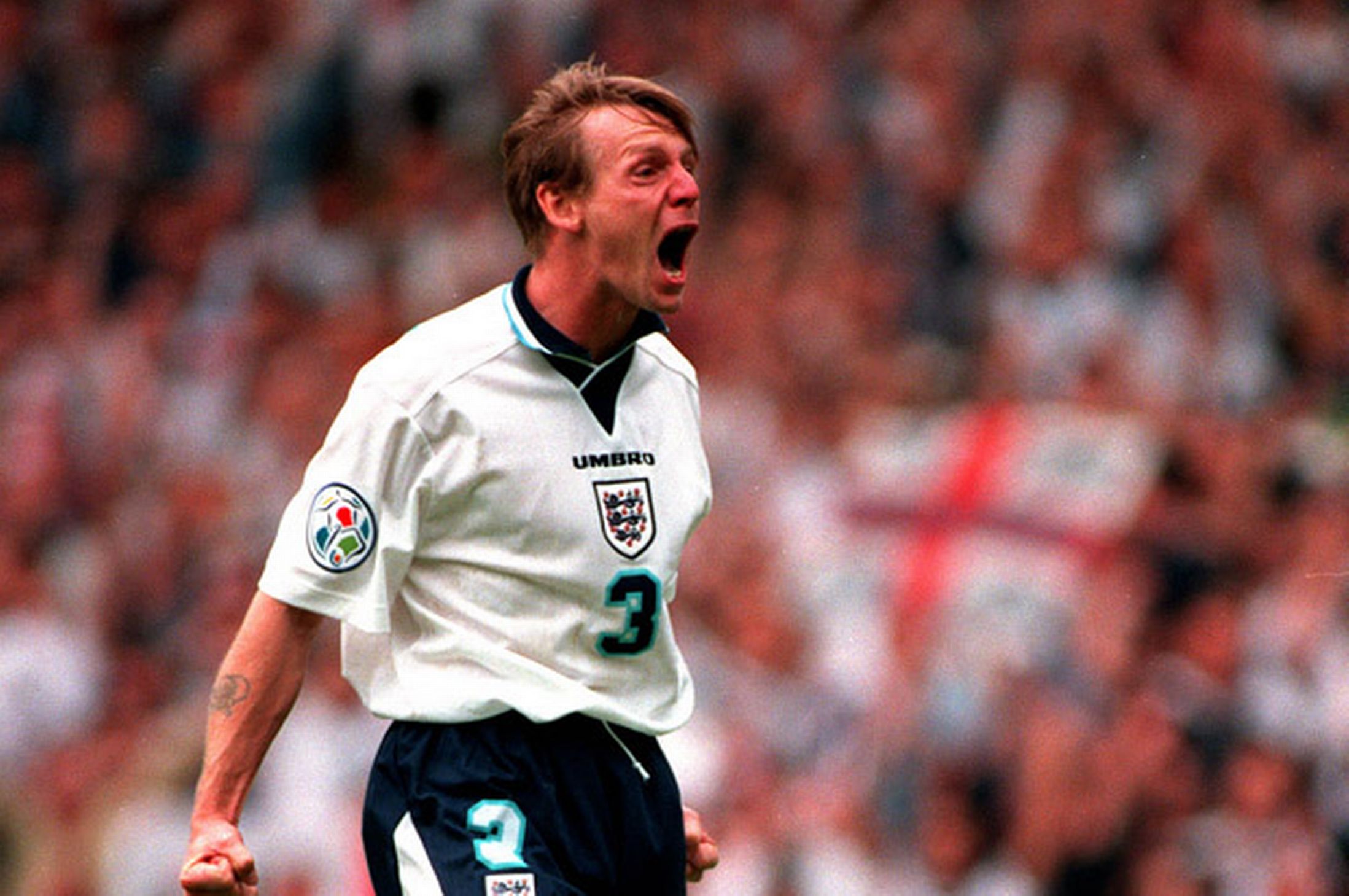 Stuart Pearce celebrates his strike against Germany in their penalty shoot-out duel (BBC)
---
Number 6: "They think it's all over!" Geoff Hurt's third goal against West Germany in the 1966 World Cup final. This goal was immortalised in Kenneth Wolstenholme's memorable commentary, as Geoff Hurst sealed a 4-2 win over West Germany in the final minute of extra time. He took on a tired German defence, before smashing a shot into the roof of the net to send the Wembley crowd wild.
Hurst still remains the only player in history to have scored a hat-trick in the World Cup final.
Geoff Hurst fires in his third goal to secure England's only World Cup win. His second goal remains disputed to this day (The FA)
---
Number 5: 'Gazza's' tears in Italia 90
During England's crunch semi-final match against West Germany in 1990, a young Paul Gascogine was booked for a foul on Thomas Berthold. The midfielder openly wept as this meant that his dreams of appearing in a World Cup final were dashed.
Although his country subsequently lost on penalties, a Geordie endeared himself to the nation.
Gascoigne's tears during the World Cup 1990 semi-final (The FA)
---
Number 4: Pele and Moore embrace in World Cup 1970. Two true legends of the game spend a moment exchanging shirts as the world's media watches. These were the first World Cup finals televised in colour, during a time were racial tensions dominated the political arena across the globe.
This image reaffirmeded the game's capacity to treat every man as an equal on the pitch.
Two legends of the game share an iconic moment together (The FA)
---
Number 3: Beckham's sending off against Argentina. The former United star was sent sprawling by a barge from Diego Simeone. Beckham retaliated by flicking his foot at Simeone, who subsequently fell to the floor. The referee, Kim Milton Nielsen, sent of the young midfielder, and England failed to progress despite a battling performance.
The next day The Mirror headline read: 'Ten Heroic Lions and One Stupid Boy'. Beckham was villified by fans and media alike for over two years. But after being promoted to captain, he won a nation around after several stand-out performances. His redemption was complete after that free-kick against Greece which sent England through to the 2002 World Cup finals.
A yound David Beckham turns away in despair after seeing red (The Daily Mail)
---
Number 2: Hand of God. England crashed out of the World Cup 86, following a hugely memorable game against Argentina. And Maradona. The dimunitive forward leapt and raised a hand to guide a speculative cross past Peter Shilton.The referee failed to spot the deliberate handball and awarded this hugely controversial goal. Despite Gary Lineker equalising, Maradona scored again, this time displaying his brilliance to score what has been acclaimed as the 'Goal of the Century'.
Argentina progressed and eventually won the World Cup in 86. Would things have been very different but for this one moment?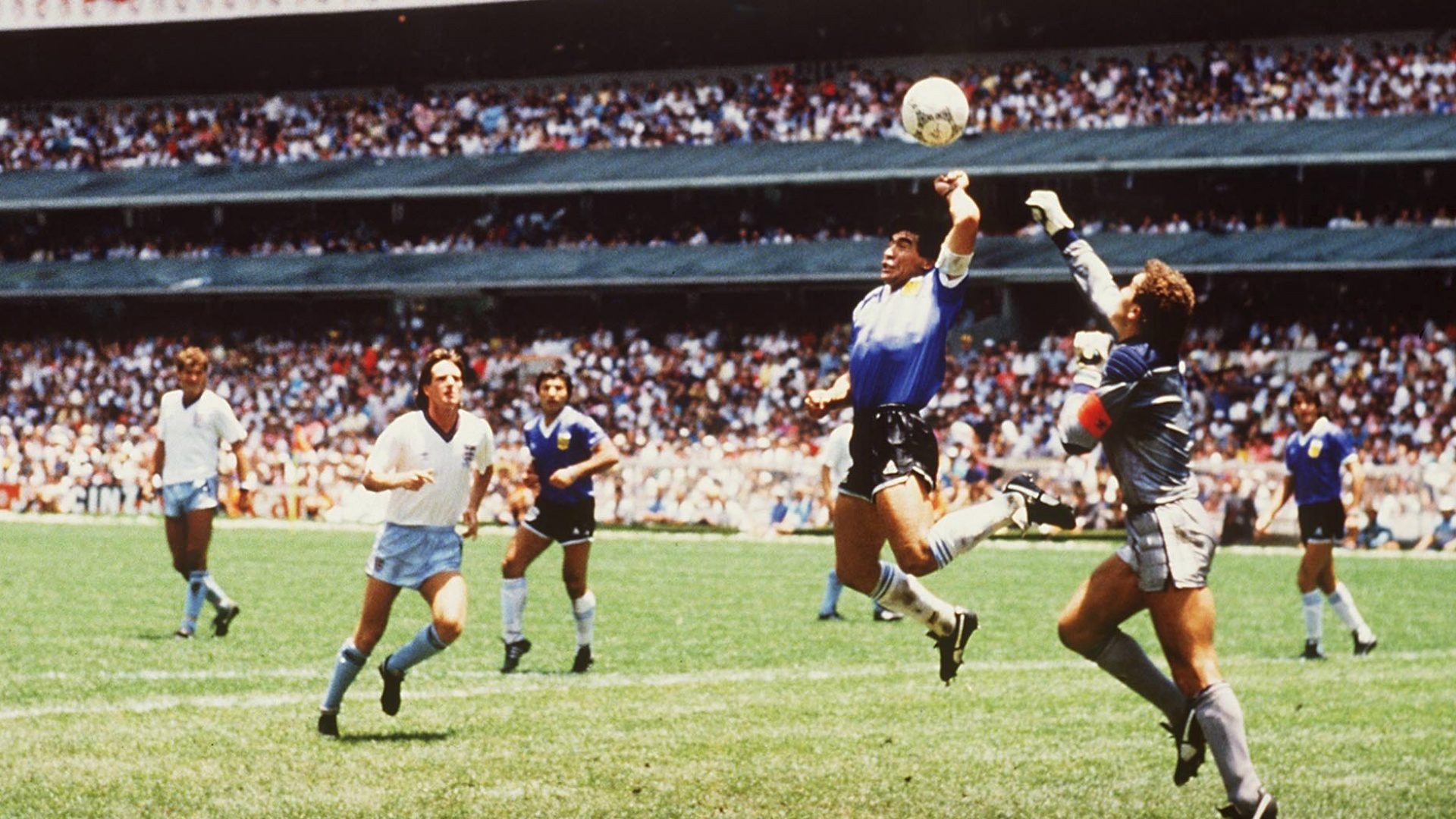 Maradona's infamous 'Hand of God' goal against England in World Cup 1986 (The Guardian)
---
Number 1: England's finest hour. The most iconic moment in England's history is immortalised by this image of Bobby Moore being carried by his team-mates as he raised aloft the Jules Rimet trophy. The game had goals, controversies, extra-time, and the only hat-trick in World Cup final history. And of course, England's only World Cup triumph to date.
Many England fans would not have been born yet, but is there any image which comes as close to the collective nation's memory as this one?
England's greatest moment is also their most iconic moment (Getty)