If you are a follower of Scottish footballer, you will no doubt have noticed that there has been an uproar to the comments made by Glasgow Celtic assistant manager, John Collins.
Collins, who played 58 times for Scotland and made over 200 appearance for the Hoops as a player, claimed that the domestic opposition do not have "clever enough players or quick enough thinkers to punish us".
As you might imagine, these barbed comments have caused a major stir in Scotland – but is the straight talking assistant manager really wrong? Or, are Celtic simply too good for Scotland?
John Collins has been the assistant manager of Celtic since June 2014 (SNS Group)
---
In Defence of John Collins
First off, let me admit that I'm a massive fan of John Collins. An absolutely tremendous footballer, and a man who knows what it takes to be professional and how to win. Collins was certainly clever enough and quick enough to damage teams in his day.
His domineering performances at club and international level make him one of the standout Scots of the last thirty or so years, and his achievements as a manager should not be forgotten either.
John Collins celebrates scoring against Brazil in the 1998 World Cup (Getty)
A spell abroad with Charleroi before returning to Scotland to manage Hibernian were short but fruitful. He even won a trophy at Hibernian and was instrutmental in the development of some very talented players at the time.
Aberdeen manager Derek McInnes sniped that Collins had "a lot to say for an assistant manager" but McInnes seems to have totally sidestepped two key points;
Collins has done as much in just two seasons as a manager than McInnes has so far achieved.
McInnes, following a 3-0 win in Croatia against Rijeka, stated that nobody in Scotland would "test their discipline" like they were tested in Croatia
How can you possibly make such a fuss against someone with comparative achievements as a manager and far more accomplishments as a player, and treat him as if he was a nobody? This is ridiculous grandstanding from the Dons manager. Given he made similar remarks too, his own comments smack of hypocracy.
Dennis McInnes has reacted strongly to John Collins comments (BBC)
In my opinion, Collins was completely right in what he said. It was a bit crass, sure, but it is the truth. Just this week alone, Inverness boss John Hughes more or less echoed these sentiments whilst Ryan Stevenson of Partick Thistle stated that Celtic defender Virgil Van Dijk was "above" the Scottish divisions.
Is it only when a Celtic staff member makes such comments that it can be construed as arrogant?
---
"The Bayern of Scotland"
One stinging criticsm from fans of other SPFL teams is that there is little wonder Celtic dominate so much when they snap up the best of talent in the league. And these accusations have been further fuelled since Celtic's triple transfer of Nadir Ciftci, Stuart Armstrong and Gary Mackay-Steven from Dundee United.
But is it really fair to say Celtic win the league by "poaching" the best players from domestic rivals? Are Celtic really the Bayern Munich of Scotland?
Ciftci's transfer from rivals Dundee United have again led to accusations of Celtic poaching SPFL stars (Scotsman)
Reality is sometimes far from the truth. In fact, Celtic has a chequered record of buying SPL players - Anthony Stokes, in 2010, was arguably the last significant SPFL singing that they made before this season. Even during the intervening period, fans of other SPFL clubs still accused the Hoops of poaching their way to the top.
Celtic are undeniably in a position of strength and power. Ever since the Fergus McCann era they have created a powerful and dedicated plan towards financial solidity. Their philosophy has been to bring in cheap players from outside Scotland who have the potential to develop and become SPFL stars before selling them for a higher price.
Although fans of Celtic do not see the same calibre of player or find the success in Europe that Bayern fans are accustomed to, both teams are on the same footing when it comes to their relative financial strength versus their domestic rivals and the desire of other teams players to want to play for them.
Fergus McCann has left a sustainable legacy at Celtic that will benefit the Glasgow club for many years (Evening Times)
But is it fair to criticise Celtic for their long term planning and foresight to be in their current financial position of power? Although the big spending days of Martin O'Neill are long gone, the club is arguably one of the healthiest in the continent.
The same really cannot be said for many other teams in Scotland. But Celtic's fiscal prudence (even to the detriment of the playing team at times) has been far more significant in Celtic's success than any perceived "hand-picking" of the league's best and brightest.
---
The Fact of the Matter
The fact of the matter is that Celtic, as a football club have been slow to adapt in the last twenty years when football has become so much more global. However, recently their desire to match the biggest teams in Europe for preparation, fitness, tactical acumen, player development has been steadily improving in the last twelve months. And this is in large part due to Celtic manager Ronny Deila.
Look at the work Deila done in his homeland with Stromsgodset. He took what was described as the "Kilmarnock of Norway" to the title! His budget was nearly a tenth of that of perennial big dogs Rosenborg, yet he managed to do it. How? Through coaching, development, fitness, professionalism and a commitment to sticking with a long-term plan.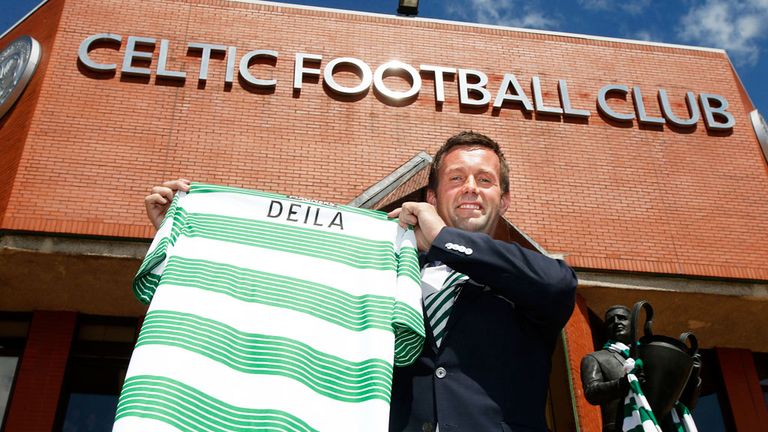 Hoops manager Ronny Delia is thinking long term at Celtic (Skysports)
Rosenborg are the Celtic of Norway, so it's not impossible for other SPFL clubs to prove the words of Collins wrong. But they need to find themselves someone with enough foresight and ambition to stay committed to a long-term project. Celtic have simply been smart to avoid a boom-and-bust policy like their great rivals Rangers, and have positioned themselves to maintain their dominance in the SPFL for many years to come.
Things may change if Rangers get promoted and sort themselves out as a football club. And even then there has to be a step change in the level of transparency, vision, and commitment at the Ibrox club since they re-formed in 2012.
However, until that potential scenario actually unfolds, Collins statements are correct and will remain so for the foreseeable future.