Georgi Kinkladze was a Georgian playmaker who played for Manchester City during the mid-nineties. And 'Gio' remains a hero to many Sky Blues fans to this very day.
Manchester City are regarded today one of the mightiest clubs in England and perennial contenders for the title. The club has spent millions bringing superstars to the Etihad including the likes of Carlos Tevez, Yaya Toure and Sergio Aguero. And in turn these stars have rewarded the club with two Premier League titles in four years.
Manchester City players celebrate their second title in three years in 2014 (EPA)
But fans of a certain vintage will know it has not always been this way. For before the feast there was famine.
Prior to the Sheikh Mansour era, the Manchester club struggled for consistency and often flirted with relegation in the Premier League. The club's darkest days were between 1995-98 when the club were relegated twice in three seasons, and sent hurtling into the third tier of English football.
But even during this most turbulent of periods there was a beacon of light. And to City fans his name was Georgi.
An unheralded Kinkladze arrives at Man City beside his former manager Alan Ball (Manchester Evening News)
Kinkladze was an unknown figure when he arrived from Dinamo Tbilisi for a transfer fee of £2 million in 1995. He was scouted by Francis Lee - a former City player and then club chairman - while Kinkladze was on international duty.
After an initial period of home-sickness, Kinkladze became a hit with Citizens fans because of his unparalleled dribbling and exquisite balance on the ball. The Georgian admitted theses precise skills were honed during his childhood years from an unlikely combination of ballet tutoring and football practice.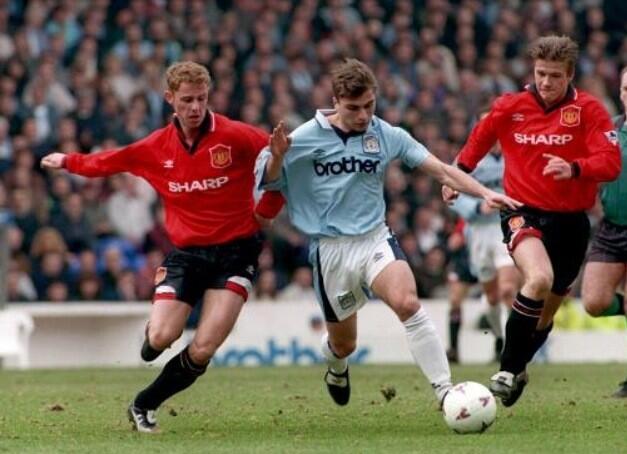 Kinkladze 'dances' his way past United's Nicky Butt and David Beckham (Getty)
The most famous example of Kinkladze's brilliance was his wonderful solo goal against Southampton. He jinked his way around five Saint's defenders, before lofting the ball over advancing Southampton keeper Dave Beasant. This wonder-goal was voted Goal of the Month, and runner-up only to a Matt Le Tissier effort in the 95/96 season.
A touch of Kinkladze magic including the wonder-goal against Southampton (YouTube)
Kinkladze was such a joy to watch that even if you cared little for Manchester City, he would be the sole reason why a fan (supporting and opposing) would purchase a Man City match ticket. Or why Premier League fans would stay-up late into the witching hour and watch Match of the Day.
Kinkladze was the post-impressionist artisan, and the football pitch was his canvas to create his grand masterpiece.
He was a left-footed player just like a certain Lionel Messi, and although it may sound the most grandiose of overstatements, Kinkladze's dribbling ability was undoubtedly on par with the Argentine superstar.
Kinkladze's dribbling ability could even rival Messi's talent (YouTube)
Unfortunately, not even the magical skills of 'Georgi could not save City from relegation that year. But he stayed loyal to City and to his fans, turning down offers from European giants Barcelona and Inter Milan. This only elevated his star higher among the suffering Sky Blues fans.
Not even the sparkling efforts of Kinkladze could save City from Premier League relegation (FourFourTwo)
Kinkladze's showed his star-quality in the rigours of the English second division in the 96/97 season, forcing opposition managers to man-mark him with two or even three players. But the club entered the most torrid period in their history going through five managers in a single season. However, Kinkladze was voted City Player of the Year for the second time in a row.
Midway during his third season, Frank Clark was sacked as manager. Joe Royle was hired to save the club from another relegation, but he considered Kinkladze as an unaffordable luxury. In his first board meeting as City manager, he said: "We have to sell Kinkladze". He later cited that it was no coincidence that CIty's free-fall had started upon the Georgian's arrival, and that "there was too much about the whole Kinkladze cult phenomenon that wasn't right".
Royle dropped Kinkladze for six games citing a lack of effort during the relegation battle, before he reinstated the mercurial Georgian for the final two matches of the season. Despite picking up four points the Citizens were doomed to relegation.
Kinkladze was sold soon after to Ajax for £5million, and Manchester City lost one of their most treasured icons.
The end of a love affair as City are relegated again, and what will prove to be the Georgian's last game at the club (Daily Mail)
Kinkladze scored 22 goals in 119 appearances during his Manchester City career. He was the stand-out player City fans would look to in an era shorn of heroes.
Although his destiny was not to lead his club to glory such as Ageuro, Toure or Kompany, Georgi Kinkladze's footballing magic is woven into the very fabric of the famous Sky Blue shirt that they now wear.