Every generation there is one player that is etched in our memories, and whose legend is passed down from father to child.
My grandfather fondly reminisces about Pele and his famous World cup exploits, while my father and his generation often speak about Diego Maradona and his extraordinary goal against England in 1986. My personal love of football was sparked as a child, when I marveled at the Brazilian Ronaldo's dribbling during the 2002 World Cup.
Although Ronaldo was a wonderful player, it is the emergence of a prodigy from Rosario in Argentina, whose story I will pass down to my children. I refer to Lionel Andrés Messi Cuccittini – more commonly known as Lionel Messi.
Messi's stature in the game only continues to grow (FB)
The diminutive Argentinian is arguably one of the best players in the history of the game. And it natural for any fan to compare his greatness to other legendary players, including the greats mentioned above.
But the most natural comparison is with Maradona. There are some obvious similarities: both are countrymen, represented Barcelona, similar in stature (Messi 5 ft 7" and Maradona 5 ft 5"), both iconic number 10's, and footballing geniuses. And few players are able to captivate their watching audience by decimating the opposition defence. And comparisons were even encouraged by Maradona himself, when he proclaimed Messi to be his natural successor on the football field.
Maradona's status in Argentinian football was unchallenged until the emergence of Messi (Getty)
When Lionel Messi entered the world of football back in 2004/2005 season, no one imagined the young Argentinian would ever reach the heights achieved by Maradona. But each passing season Messi enhanced his extraordinary ability, and raised his recognition to the football world. And against Getafe in 2007 Messi scored a perfect replica of Maradona's famous 1986 solo goal against England, drawing inevitable comparisons against each other
And this goal led to the birth of the question, who is better? Diego or Leo? The Master or the Prince?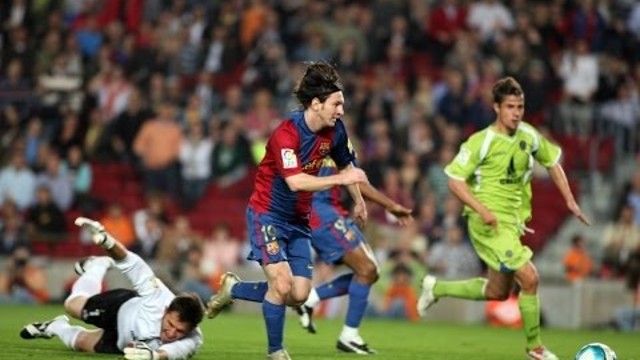 Messi surges through a despairing Getafe defence to score a carbon copy of Maradona's acclaimed 1986 'Goal of the Century' (Barcelona FC)
It is important to note that football had a very different landscape in the era when Maradona shone. Football was less globalised compared with today, player power was less evident, and there were fewer transcontinental transfers. Maradona moved to Barcelona in 1982, after strong performances at the World cup. Although Maradona arrived without much fanfare, his tenure was short-lived, primarily due to his fiery temper and off-the-field problems.
But it was when he joined Napoli in 1984, that his golden years dawnedand he rewrote the history of an average mid-table Italian club. Maradona, along with Giordano and Careca, clinched two Serie A titles and one Coppa Italia by the time he left in 1991.
However, Maradona's greatest achievement was the 1986 World cup win, where he was the driving force that guided Argentina to their second World cup triumph. Maradona contributed to the tournament with two of the most remembered goals in World Cup history – both against England in the quarter-finals. This includes his infamous 'Hand of God' (where he raised a hand to push the ball past a helpless Peter Shilton), and the the so called 'Goal of the Century' where he dribbled from the half-way line to score against a despairing English defence.
This game if often recollected as it showcased Maradona's dual nature - his undoubted football ability and a full glimpse at the darker side of his temperament. Highly controversial, he failed a drugs test for cocaine and was banned for 15 months.
Maradona's 'Hand of God' goal against England in the 1986 World Cup (Bongarts/Getty)
Unlike Maradona, Messi has rarely courted controversy so far during his career, both on and off the field.
Messi arrived on the world stage in 2005. After initial injury problems with an injury, he showed the world his full potential. An astonishing number of goals, assists, and dazzling gameplay quickly launched Messi to the pinnacle of football and 4 Ballon d'Or's. Messi dominated La Liga and the UEFA Champions league (helping Barcelona to triumph four times).
Messi's game was further elevated through one of the greatest football rivalries with Real Madrid player Cristiano Ronaldo. But despite his many trophies, World Cup glory continues to elude Lionel Messi, despite reaching the final in World Cup 2014. At 28 years of age, Messi still has time to claim the World Cup and cement his status in the pantheon of football greats.
A dejected Lionel Messi narrowly missed out on a World Cup win in 2014 (Daily Mail / AFP)
Statistically speaking, Messi has already surpassed his predecessor, and by the end of his career the difference will become more apparent. Maradona scored 312 goals in 588 club appearances, but Messi has already scored an incredible 423 goals in just 514 games at the end of 2014/15 season. However, statistics often reveal only half the truth. Maradona played much of his career in Serie A containing some of the greatest defenders in history, including: Franco Baresi, Gaetano Scirea, Giuseppe Bergomi and Paolo Maldini. These defenders are legends in their own right, and are all ranked in the top 10 defenders in Soccerjury. Without diminishing Messi's obvious talents, several of the La Liga defenses outside the Madrid clubs are notoriously battle.
And although Maradona was a highly controversial player, he was able to inspire his team-mates. Both Napoli and Argentina were not considered strong teams before he played in them. But thanks to his football brilliance and strong leadership he won titles that he should not have. Although Messi is undoubtedly an influential player for his teams – this is primarily due to his football ability, and not his ability to lead his team-mates.
And it should be noted Messi is a great player who played in great teams, such as the all-conquering Barcelona side of the late 2000's and early 2010's, in the company of other legends such as Thierry Henry, Xavi and Andres Iniesta. Messi's star shines brighter in the company of such great footballing peers. Maradona was not afforded this luxury, but still had the ability to make lesser players raise their game to new heights – he made average players look good, and good players look great.
An exultant Maradona lifts aloft the 1986 World Cup. This is one trophy still to elude Messi (Getty Images / Gamma-Keystone / Daily Mail)
So to answer the original question, who is the better player?
Maradona vs Messi (Soccerjury)
No doubt, Messi would surely be favored by the statistician for his astonishing strike rate. But football is far more than this, for there are hidden skills which are less obvious, and which Maradona possessed in abundance to match his footballing genius. Although Messi has marginally stronger physical attributes when comparing their Soccerjury scorecards, there is a highly significant 3 point difference in leadership between the two number 10's. Messi was selected as the captain based on his footballing exploits, and not necessarily for his leadership ability. In Argentina's recent final defeats in both the World Cup 2014, and the Copa America 2015, Messi did not shine in these biggest of games as Maradona had.
For this very reason, Maradona still remains the King of Argentina, and Messi still the Prince-in-Waiting. But it is close! If one day the Rosarian is able to inspire his own Argentinian team to World Cup glory as Maradona did, then my children's children too will speak about Messi and how he will finally eclipsed his great master.