The Euro 2016 draw was held in Paris today, and the home nations now know who they will face when the tournament begins on 10 June next year.
Group B will contain both England and Wales in a group which gives both teams real hopes of qualification.
But there was little evidence of the 'luck of the Irish' this evening as both teams were drawn in the most challenging of groups. It's fair to say Group E will be named as the Group of Death - Belgium, Italy, Sweden, Republic of Ireland.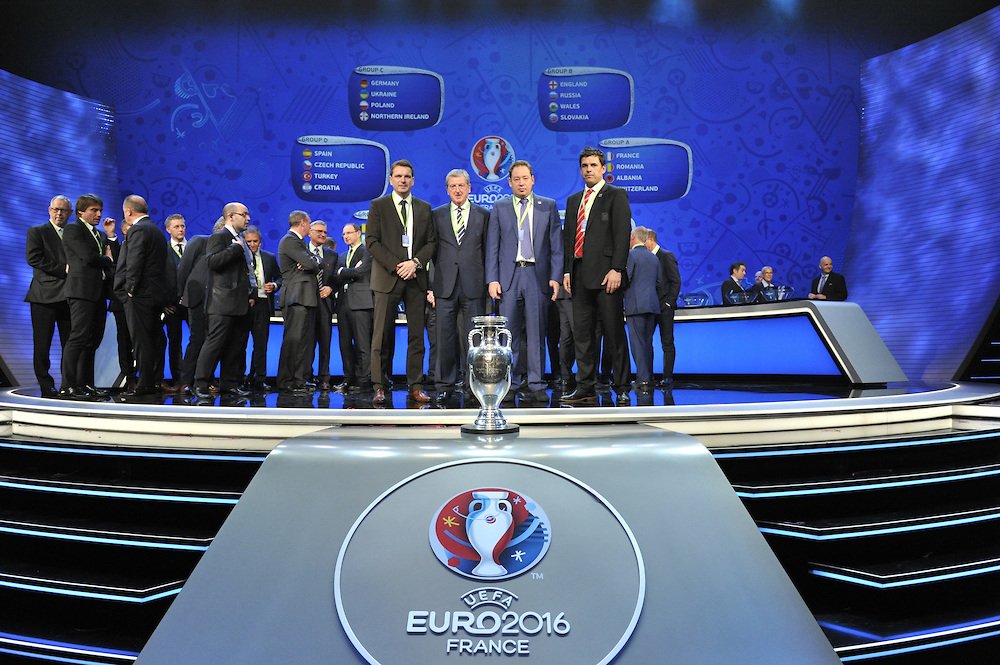 Roy Hodgson and Chris Coleman stand together after knowing their teams will face each other next summer (UEFA)
---
The Groups:
Group A: France, Switzerland, Romania, Albania
Group B: ENGLAND, Russia, Slovakia, WALES
Group C: Germany, Ukraine, Poland, NORTHERN IRELAND
Group D: Spain, Croatia, Czech Republic, Turkey
Group E: Belgium, Italy, Sweden, REPUBLIC OF IRELAND
Group F: Portugal, Austria, Hungary, Iceland
---
18:50pm: England and Wales will be pleased with their group, but Northern Ireland and Republic of Ireland are in tough, tough groups. That concludes the draw, thanks for joining.
18:49pm: Oh dear, Republic of Ireland are in the Group of Death with Italy, Sweden, and Belgium. Martin O'Neils look on, but he couldn't have picked a tougher group. But Group D also looks tasty for Northern Ireland.
18:47pm: Russia! Group B confirmed. England and Wales will be relieved avoiding Italy.
18:46pm Switzerland and France will renew regional rivalry in Group A. Who will England and Wales be drawn against next?
18:45pm Group F looks like being a favourable one for Cristiano Ronaldo against two of the perceived easier teams from Pot 3 and 4.
18:44pm Poland are drawn against Germany and Northern Ireland. It's not getting any easier. How will Michael O'Neill's defence fare against Lewandowski?
18:43pm England and Wales will face Slovakia in Group B. Tricky no doubt, but winnable.
18:42pm The first game of the tournament will be France vs Romania
18:37pm Northern Ireland in Group C with Germany. Ouch!
18:36pm Wales DRAW England - the game will be played June 16, 2pm. The camera pans over to Chris Coleman who wears a wry smile - the Wales manager didn't want this game and the 'circus' that will inevitably surround it. Roy Hodgson looks expressionless.
18:32pm Reigning champions Spain are in Group D.
18:30pm England are drawn next and are the top ranked team in Group B. Germany are drawn in Group C.
18:27pm Former French international David Trezegeut starts proceedings by drawing hosts France in Group A.
18:26pm Just a couple of minutes before it all begins. Butterfiles anyone?
---
The twenty-four teams have been divided into four different pots based on their perfomances in Euro 2012, World Cup 2014 and Euro 2016 qualification.
Pot 1 is for the highest seeds and Pot 4 is for the lowest seeds. England are ranked in Pot 1 and the other home nations are in Pot 4. There is a 50% probability that the Three Lions will face either Republic of Ireland, Wales, or Northern Ireland.
The Euro 2016 nations are divided into the four pots (UEFA)
By the conclusion of the draw, there will be six groups of four teams. The top two nations and four best third-placed teams will advance from the group stage into the last 16 knock-out stage.
---
As an appetiser before the draw, here are the best 5 goals during qualification for each home nation.
England's best goals on the road to Euro 2016 (UEFA)
Northern Ireland's top 5 goals during qualification (UEFA)
The Men in Green's best qualification goals (UEFA)
Wales best of the best as Bale and Co. seal qualification success (UEFA)