Germany are one of the true Goliath's in world football.
Die Mannschaft have triumphed in 4 separate World Cups (54, 74, 90, 14), and are second only to Brazil (with 5 World Cups) on the all-time title list. It seems that whenever the era, whereever the tournament, there is a fundamental constant in football - the Germans will prevail.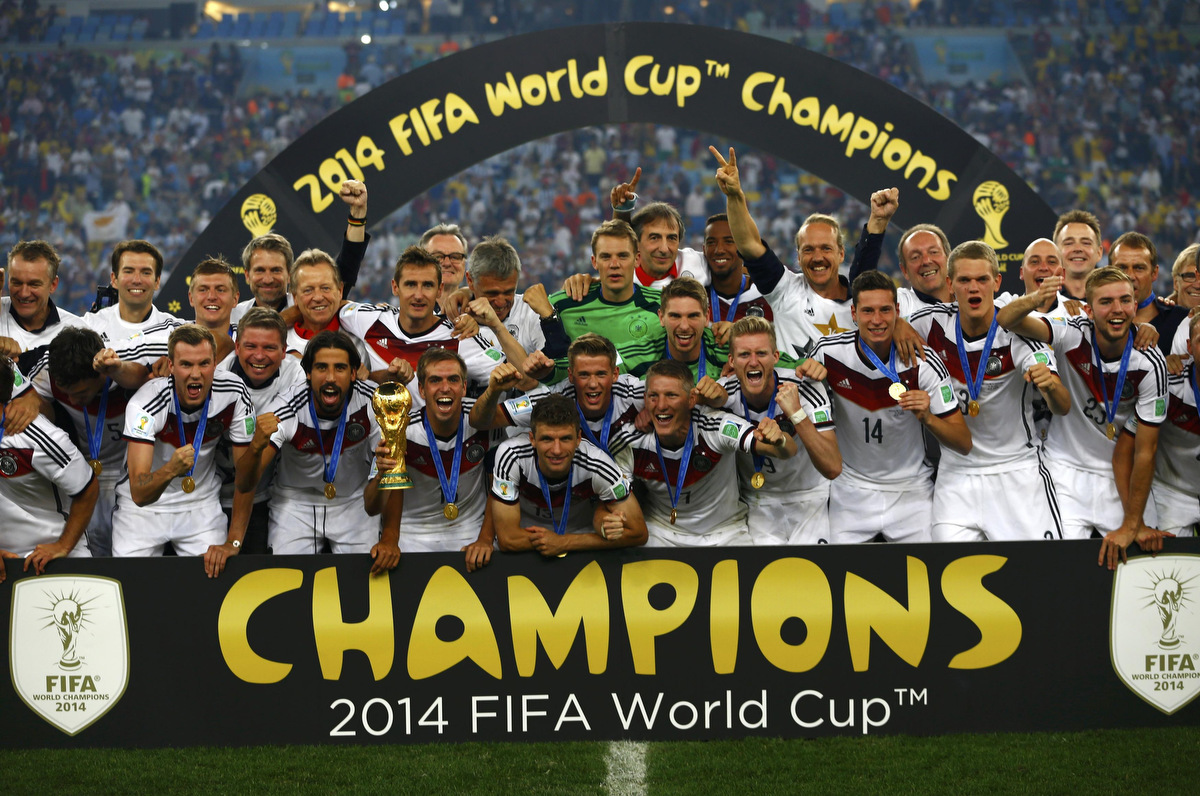 2014: A familiar story? (FIFA)
As Gary Lineker once famously quipped: "Football is a simple game. Twenty-two men chase a ball for 90 minutes and at the end, the Germans always win."
However, despite their famed metronomic efficiency to collect silverware, the footballing annals also catalogue a series of near misses and tearful exits - a notion well understood by those of an English supporting persuasion.
World Cup semi-final to title conversion
If we consider just World Cup Winning teams, it is apparent that Germany need to reach more than 3 semi-finals to win just one title. This is surprisingly the second-lowest conversion rate of all triumphant nations - only the French national team has a lower rate (requiring an excruciating 5 semi-finals to claim a solitary title). But while the national French football team is perceived to be brittle under pressure, the Germans are renowned to thrive on it.
Italy, a comparable nation in terms of both titles and prestiege to Germany, need to reach the semi-finals just twice to generate a World Cup title. This is one less "failure" than Deutschland. Although Germany have appeared in more semi-finals than any other country (and the data indeed supports they are perennial contenders), their World Cup success conversion rate is in fact rather poor.
Therefore it could be argued that the well-oiled German machine is prone to misfiring at "the business-end" of the biggest footballing stage. Or in more colloquial terms, the German national side is prone to "choking".
But now let's consider the biggest club tournament - the UEFA Champions League. This time lets consider the titles and respective runners-up by country, in Europe's premier club tournament.
UEFA Champions League title sucess rate
Remarkably a similar pattern is apparent. German teams have lost in more finals than they have won, with only the French performing worse (again!). In constrast, Dutch club sides have won an oustanding 75% of the finals that they have contested, while English teams have achieved a highly respectable win-rate of 63% of their respective finals. This in itself is a surprise considering the self-perceived fragile psyche of both footballing nations.
German fans despair - not an uncommon sight (Getty)
Damned lies and statistics, some of you may say.
But others may now sympathise that even the most self-assured German fan has felt the bitter taste of defeat. And often. You may even find solace in their measured calm for their emotions may have been weathered more than most... unless of course, you happen to be French!