David Beckham became the face of Major League Soccer back in 2007 when he joined LA Galaxy aged 31. This was a move which many experts saw as one last payday for the England icon before he hung up his boots.
The MLS franchise initiated the Designated Player Rule to ensure the England international could join his new club, as it allowed clubs to break their wage structure to land big-name players. But soon after the MLS was discredited as a European 'retirement league', consisting of big-name former internationals well past their prime but commanding a hefty salary.
This summer saw the 'retirement league' phrase resurface, after the likes of Andrea Pirlo, Steven Gerrard and Frank Lampard all chose to move to the US. All three players were legends in their homeland but had a combined aged of 98 years.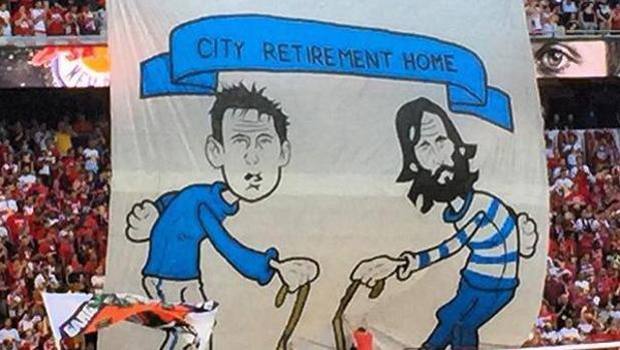 Red Bulls fans mock rivals New York City in their derby game this season (Gazetta)
However, things are now different compared with 2007. Beckham admitted just last week that he was desperate to extend his deal at Real Madrid prior to joining LA Galaxy, only for his proposed contract extension to fall through, leaving him without a club at the end of the season.
This implies that the former England captain considered the MLS his back-up option at the time.
David Beckham's move to the MLS was not his first choice (The Times)
However, this was not the case for Pirlo, Gerrard and Lampard, who all wanted to play in the MLS. Their move was not a last resort, but their desired choice.
Pirlo still had a year remaining on his contract with Juventus, and his 33 appearances in the 14/15 season helped the Italian superclub win another Serie A title and progress to the Champions League final. This proved that the 'Architect' still had enough quality and fitness to continue for at least another season at a major European club, but reports suggested he was desperate for Juventus to cancel his contract to free him to move to the US.
Likewise, Gerrard, albeit in his less favoured defensive-midfield role, was still a vital part of a Liverpool squad lacking in experience and leadership. And Lampard's successful Manchester City loan proved he still had plenty to offer in the Premier League.
The quality of the big-name players is on an upward trend, and they are choosing to join MLS despite having other offers on the table. With stars like Zlatan Ibrahimovic and Cristiano Ronaldo now being linked with moves to MLS, the global appeal of the franchise will only gain further momentum.
Ibrahimovic and Ronaldo to star in the MLS? (Eurosport)
Also, there is an interesting trend that is now appearing in the MLS. This is the case of players who were unable to shine in Europe, either through a lack of opportunities, loss of form, or bad luck, but who have successfully relaunched their careers in MLS.
The best example is 28 year old Toronto FC striker Sebastian Giovinco who played in Italy's Euro 2016 qualifiers against Azerbaijan and Norway last week. Giovinco was a former Juventus trainee but represented the Turin club in just 92 league games spanning nine years. In his first season in MLS, the Azzurri forward netted 22 league goals in 31 appearances earning himself a recall to the Italy squad.
Coupled with his Italy selection, Giovinco has even emerged as a shock transfer target for La Liga giants Barcelona, and this alone speaks volumes about the progress that MLS has made over recent years.
Likewise, Kaka's resurgence at Orlando City has also ignited speculation of a potential move to the Premier League, with heavyweights Chelsea and Arsenal rumoured to be monitoring the former Ballon d'Or winner.
Sebastian Giovinco reignited his career in the MLS (Toronto FC)
MLS was once considered a place for big names to play out their remaining days in relative comfort against players of a 'lesser standard'. But it has now emerged as a creditable league for players to show-case their talent, and the football quality continues to improve each year.
Also, the number of players from MLS being selected for their national teams is increasing, sparking debate within the league to introduce a much-needed international break similar to Europe.
The MLS franchise adopted the early English Premier League model, which is now similarly bearing fruit. In the Premier League's infancy, Jurgen Klinsmann, Gianfranco Zola and Marcel Desailly were all considered past their prime when they joined the Premier League. Accusations of a 'retirement league' were also directed at the Premier League at the time.
But these players were the early pioneers in improving the quality and wider appeal of the EPL, and helped dispel this phrase. Will the same be said about Pirlo, Gerrard and Lampard in years to come with reference to MLS?
The Premier League has managed to become the league of choice for many globally, but MLS is following a similary trajectory and continues to gain traction. Is it outside the realms of possibility for MLS to challenge the Premier League one day?
For long gone are the Beckham days, as Major League Soccer enters a new era.