Manchester United is a club synonymous with some of the the greatest footballers of all-time throughout the ages.
Old Trafford is the spiritual home of global superstars such as Best, Giggs, Charlton, Robson and Beckham.
But who is the greatest footballer ever to represent the Old Trafford club? And which players would rank in the club's all-time top 10 list?
Using an algorithmic approach, we present the Ten Greatest United Players in the club's distinguished history. The ratings are based on the respective player's form across the best four seasons of their career, and fans judging the individual attributes of players.
Manchester United All-Time Top 10 Player Rankings
Bobby Charlton is ranked the greatest United player of all time. The United and England legend narrowly edges out Cristiano Ronaldo, while goalkeeper Peter Schmeichel is ranked third.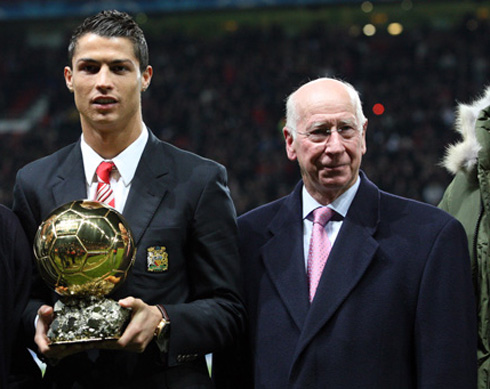 The two greatest players to have represented Manchester United (Getty)
Other players from the Premier League era include former captain Roy Keane, winger Ryan Giggs, and record goal-scorer Wayne Rooney. Legends such as George Best, Duncan Edwards and Denis Law are also represented in the rankings.
Rooney's ranking may be questioned by some fans but this is a reflection of the United striker's 4-year peak rating (82.95%), which is significantly higher than his current ranking (80.47%).
Players to narrowly miss out include David Beckham, Paul Scholes, Rio Ferdinand, and Eric Cantona. Such icons would grace the Top 10 list of nearly every other club in the world, and is a testament to the quality of players to have graced The Theatre of Dreams.