After a third consecutive league defeat to Stoke, Manchester United are now winless in five Premiership matches and seven in all competitions.
Louis van Gaal - once hailed by fans as the true heir to Alex Ferguson - is now reportedly 'worried' about his future at the Old Trafford club. United fans have openly voiced their disapproval at their team's uninspiring playing style and lack of goals. But do van Gaal's critics have a point, and can their opinion be supported by data?
An attempt has been made to objectively analyse van Gaal's team's: 1) passing efficiency (i.e. how many passes are needed to generate a shot) 2) and, shooting efficiency (i.e. how many shots are needed to score a goal).
This analysis is based on the first eighteen games of the season, with the current United side compared relative to other Premier League teams, and against their last title winning team from the 12/13 campaign.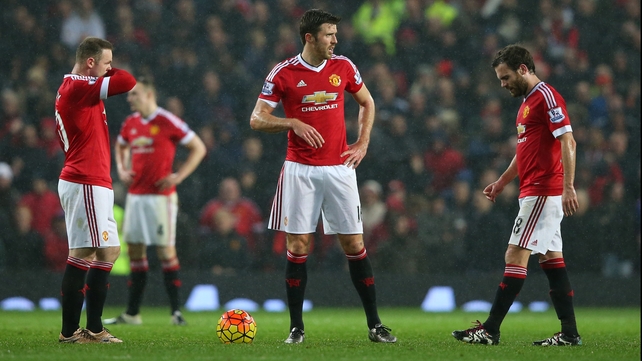 Downcast United players after another disappointing performance (Getty)
---
Van Gaal is a firm believer of keeping possession and passing the ball. Indeed, his United team have averaged the second highest number of passes per game (588 passes on average) in the 15/16 season - just behind Arsenal.
But his side also are the most inefficient passing team in the Premier League requiring a mammoth 53 passes to generate a single shot in a match. This is markedly higher than the 32 passes they needed to generate a shot in the 12/13 season, and is more than double the number of passes that league leaders Leicester (26 passes) require to create a shooting opportunity.
Number of passes versus passes needed to create a shot (Soccerjury)
What does this suggest? That the current United team lack the cutting edge of the 12/13 vintage, and are guilty of overplaying the game versus other teams in the Premier League today.

Verdict: Criticism from United supporters directed at their team's lack of imagination is valid.
---
United fans had become accustomed to a feast of goals during Alex Ferguson's golden reign. However, since his retirement the current data confirms that United have become shot-shy, averaging just eleven shots in a match this season. This is the fifth lowest of all teams in the 15/16 Premier League, and is noticeably lower than the 14.7 shots per game they averaged during Sir Alex Ferguson's final season.
But despite their current team being less clinical in front of goal versus the 12/13 team (7.6 versus 6.4 shots to goals respectively), the current United strikers still have a strong shots-to-goal conversion rate relative to other Premier League teams this season.
Number of shots versus shots needed to score a goal (Soccerjury)
Verdict: Criticism from Old Trafford fans at United's lack of shots is warranted, but harsh against their current strikers who continue to be clinical in front of goal.
---
How can the current situation be fixed? United can correct their current slump either by a tactical change to a more direct passing style, or by recruiting players that have the creativity to produce defence splitting passes that produce more chances for their strikers.
But will the notoriously stubborn van Gaal demonstrate the managerial flexibility to change his footballing philosophy? Or will the United board trust the Dutchman with more transfer funds despite only seeing a modest return from his recent high cost signings?